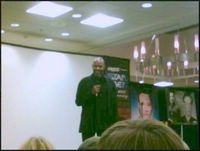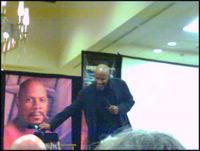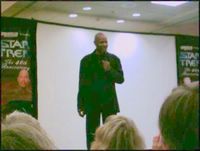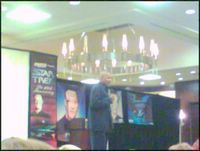 The above pictures are of Avery Brooks from
Star Trek: Deep Space Nine
as part of
Creation
. You can click for a larger picture. These are not the best photos, they are from my camera phone. I took some better
(I hope)
photos with the standard camera and will post them on my
fick
r
account
(which is linked on this page)
as soon as I get them developed.
Had a good time today. With the No Minimum Bid Auction, I won the bid for a canvas poster of the DS9 cast
(season 8 , the last season , I think, one where Worf joined the crew and Dax had change host)
It was limited, the only one they had there. The poster had autograph ticket with it
and
I got to go to the head of the autograph line. The poster was on the medium size, only 40in x 40in.
Avery Brooks was the main guest today. He mainly did Q & A from the audience about his DS9 and Spencer: For Hire days. And ending his time by doing a part from Othello and a sung a short song. The day was not over yet. They had for the Gold Weekend Patrons a dessert party. Icecream with plenty of topings was had by all.